What looks like a FlowRider, feels a bit like a FlowBarrel, has a patented, tensioned, Composite Membrane Ride Surface, is fun as heck and allows you the freedom of surfing a curling wave?  Do you need more clues?  Of course you don't – you already had it figured out and the answer is the FlowCurl.
FlowCurl suffers from an equally disturbing identity crisis.  It is the super premium version of the FlowRider, with some of the curling attributes of the epic FlowBarrel series of waves, only it is under tension and much more forgiving.  The FlowCurl will allow you to rip, as if you were surfing at the most ripable spot in the world, Trestles.  It is, in fact, a never ending Trestles wall, ready for destruction.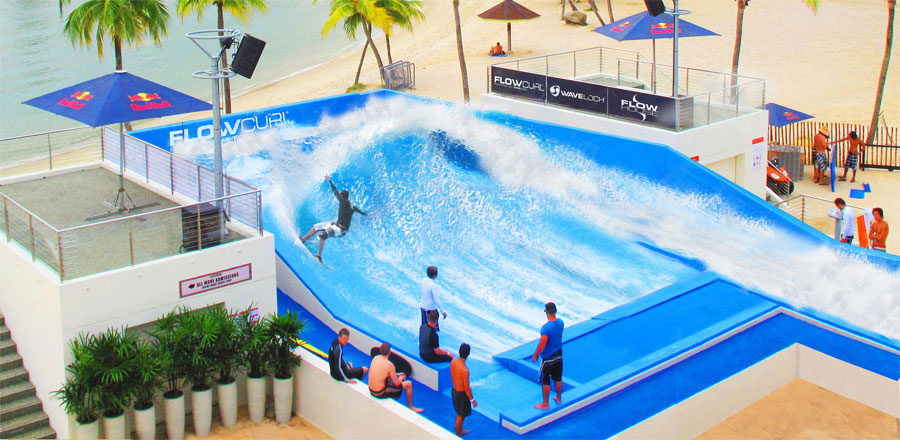 Surfers need variety, and so do those who ride our sheet waves, and the FlowCurl delivers.  Swing down into a hard bottom turn and go charging into the lip and follow that up with a gouging cutback; that is the beauty of the FlowCurl.  It feels just like tearing apart your favorite surf spot, but there is no fighting for waves.  Just wait for your turn and encourage your fellow riders to go off!
Powered by submersible pumps by Flygt, the FlowCurl will provide tremendous inspiration to a whole new category of riding – the total shredder who is looking for the "Curl" with a lip to bash and float across.  It is the multi-faceted attack of today's new fleet of flowriding addicts that will put this attraction to the ultimate test.
Key Concepts

Skill Vs. Thrill
– Boardsports such as surfing, snowboarding, skateboarding and flowboarding are skill-based activities that challenge riders to develop new tricks to emulate their heroes. By comparison, the typical water park or theme park rides are thrill-based rides. No skill is required and no reward or accomplishment is earned. The more you ride a thrill ride the less thrilling it becomes. This is what we call thrill fatigue. Wave Loch's skilled-based technology is the antidote to thrill fatigue. The adrenaline rush of successful challenges met, inspires riders to achieve a never-ending cycle of skill based reward, thereby increasing rider visitations and loyalty.

The Lifestyle – Wave Loch DNA is a double helix of wave calculus and wave riding passion. We surf. We live and work at the beach. We infuse our products with our passion and stay close to our roots. Our products are icons of the California beach lifestyle. Wave Loch attractions create an emotional connection to the multibillion dollar board sports industry. Our wave technologies attract the valuable youth market, families and boardsport enthusiasts. When orchestrated correctly, the lifestyle identification inherent in Wave Loch technologies can increase venue revenues beyond those generated by the waves, including sales of food and beverage, retail products, sponsorship opportunities and corporate and competitive events.

The Sport – Flowriding is not just a ride, it is a sport… a 21st Century alchemy that has the look of surfing, the ride of snowboarding, the tricks of skateboarding, and boards derived from wakeboarding. Since the early '90s, the world's best board riders have cross pollinated
into flowboarding. This new alternative board sport is taken seriously from the mountains to the sea. Flowriding will energize your facility with aspiring athletes (and 'wannabes') who will pay again and again to enhance their board riding skills. Not only does this repeat business enhance revenue and spread word of mouth, but the better a rider gets, the greater the show for your viewing audience.

Safety – Thrilling to do, thrilling to watch, our ride is designed to handle wipeouts. The FlowRider's waveform is a proprietary composite membrane ride surface that is designed to absorb the energy of impacts. Flowboarders may wipe out, but they'll get back up again and again and again.