What is as good as a FlowRider, comes in four containers and can be assembled quickly and efficiently anywhere in the world?  Why of course, it's the FlowRider Wave-In -A-Box Double.
A product designed by the experts in sheet wave technology, the FlowRider Wave-In -A-Box Double is the product for anywhere, any place, at any time. Have a seasonal venue in different areas of the world?  Pick up the Wave-In-A-Box Double and transport it for use in multiple venues.  Need a product to go indoors in a difficult location where concrete civil works are an issue?  Then the Wave-In- A-Box Double is the perfect product for you.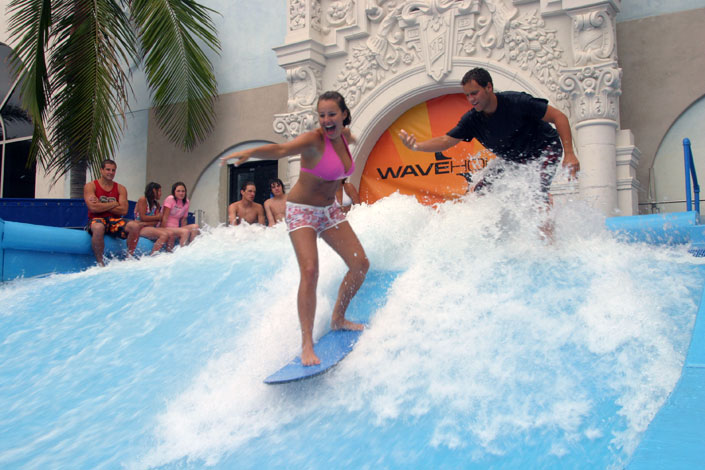 The Wave-In-A-Box Double is the staple attraction for Flow House Bedford, strategically located at Body Flight in the UK.  Not only does Flow House Bedford have a Wave-In- A-Box Double, they have room for one more – plug in and play!  The construction of the pending Flow House Castleford has two Wave-In -A-Box Double's in the plans and should be open for use in 2012.
The Wave-In-A-Box Double has all of the dynamic attributes of the standard FlowRider Double – 240 hp of sheet flow power by Flygt, the world leader in submersible pumps, plus the patented tensioned ride surface for the ongoing safety and fun of all of your patrons.
Just move it in, fill it up, and plug it in!  The only thing left is to have amazing amounts of fun!  Did we ever tell you we are the "brokers" of fun?????
Key Concepts

Skill Vs. Thrill
– Boardsports such as surfing, snowboarding, skateboarding and flowboarding are skill-based activities that challenge riders to develop new tricks to emulate their heroes. By comparison, the typical water park or theme park rides are thrill-based rides. No skill is required and no reward or accomplishment is earned. The more you ride a thrill ride the less thrilling it becomes. This is what we call thrill fatigue. Wave Loch's skilled-based technology is the antidote to thrill fatigue. The adrenaline rush of successful challenges met, inspires riders to achieve a never-ending cycle of skill based reward, thereby increasing rider visitations and loyalty.

The Lifestyle – Wave Loch DNA is a double helix of wave calculus and wave riding passion. We surf. We live and work at the beach. We infuse our products with our passion and stay close to our roots. Our products are icons of the California beach lifestyle. Wave Loch attractions create an emotional connection to the multibillion dollar board sports industry. Our wave technologies attract the valuable youth market, families and boardsport enthusiasts. When orchestrated correctly, the lifestyle identification inherent in Wave Loch technologies can increase venue revenues beyond those generated by the waves, including sales of food and beverage, retail products, sponsorship opportunities and corporate and competitive events.

The Sport – Flowriding is not just a ride, it is a sport… a 21st Century alchemy that has the look of surfing, the ride of snowboarding, the tricks of skateboarding, and boards derived from wakeboarding. Since the early '90s, the world's best board riders have cross pollinated
into flowboarding. This new alternative board sport is taken seriously from the mountains to the sea. Flowriding will energize your facility with aspiring athletes (and 'wannabes') who will pay again and again to enhance their board riding skills. Not only does this repeat business enhance revenue and spread word of mouth, but the better a rider gets, the greater the show for your viewing audience.

Safety – Thrilling to do, thrilling to watch, our ride is designed to handle wipeouts. The FlowRider's waveform is a proprietary composite membrane ride surface that is designed to absorb the energy of impacts. Flowboarders may wipe out, but they'll get back up again and again and again.