Here are just a few notable examples of how Wave Loch's team and products have made exciting strides in bringing fun and profitability to a number of dreamers, companies and communities world-wide.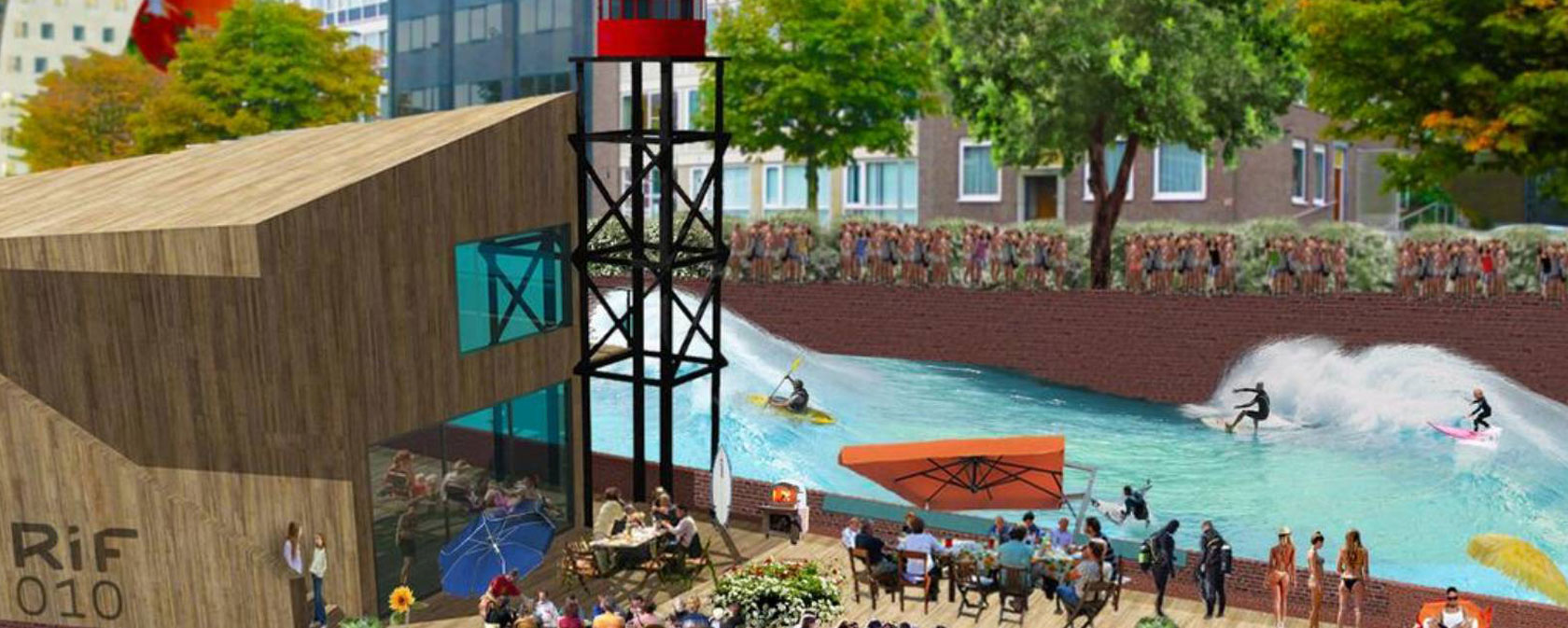 CASE STUDIES – SURFLOCH SURFPOOL™: RiF010, Rotterdam, Netherlands
Set in the Steigersgracht Canal in the center of Netherland's second largest city (Rotterdam), Wave Loch has developed cutting edge technology for the world's first city center surfing pool. The RiF010 Water Sports Arena project features the SurfLoch SurfPool™ set in the canal showcasing a 1.5 meter (5 ft) high curling first-breaking every 8 seconds, followed by a .75 meter (2.5 ft) high beginner training wave. The SurfLoch SurfPool™ will surprise and astonish as it generates consistent, clean, surfable waves in the middle of a modern metropolis.
Overview of the Business
Rotterdam's regional area has a resident population of over 1 million, and 14 million tourist visitors. It is known as the "Gateway To Europe" due to its nexus of ocean, rail, air and overland transport, and its position as Europe's largest port. Several years ago the City began focusing on experience-based real estate developments as a tool for economic development. The RiF010 project follows an initiative by Rotterdam City Council that featured community sourced ideas for locals to select by a popular vote. Spearheaded by a small local resident group named RIF010 (which means 'reef' located in the mail code for Rotterdam, i.e., '010'), the SurfLoch SurfPool™ project won a majority of the vote and will receive City grant funds allocated for the initiative. Now in the early construction stages, the project is expected to break ground before the end of 2015, and open in 2016.

The Challenge
The project started as a heavily advertised, citywide voting contest for redevelopment funds. The project had to meet economic redevelopment criteria and be an experience-based project. In addition, it would have to preserve Rotterdam's historic archaeological elements.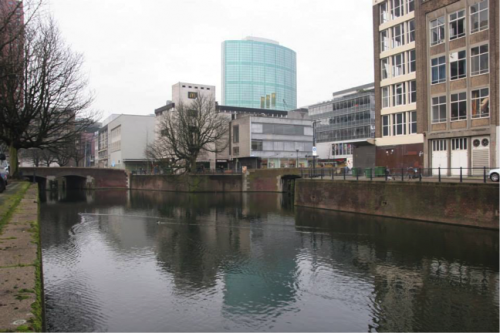 The proposed RIF010 section of canal was basically a forgotten pond in this famous city-of-canals. The site is adjacent to an iconic historic Gothic-church (the Laurenskerk) and a stunningly-modernistic Market Hall ("Markthal"), as well as bordering one of the city center's main (and also oldest) shopping streets, the Hoogstraat. This melding of old and new, resident and tourist, iconic and visionary, so typical of Rotterdam, provided the backdrop to a serious engineering challenge, and would also be a driver for the optimal solution. The contest winner would have to cater to residents and tourists alike, from youth to family to elderly, and appeal to those who value tradition as well as those who value innovation. As if that weren't enough, it would also need to be an experienced-based development, something active, physical and interactive in nature. And the prime real estate area meant that the project could NOT fail: there would have to be a high degree of confidence amongst voters for them to risk this precious real estate.
The Solution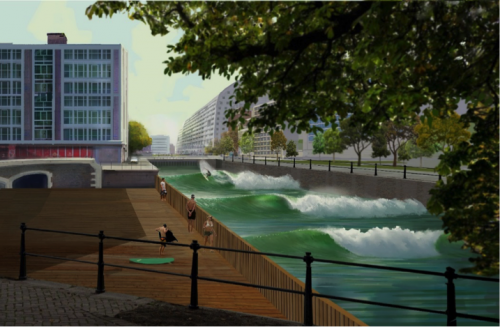 By turning the canal into a SurfLoch SurfPool™ with multiple breaks and variable controls, residents and tourists could be treated to a wide variety of programming including surfing, bodyboarding, kayaking, rafting, SCUBA, swimming, water safety and lessons. Further, by installing an adjacent wooden "beach house" style restaurant, with a viewing terrace and café, people will be able watch 150 meters of fun while sipping their erwtensoep (a traditional pea soup). SurfLoch SurfPool™ waves will provide an ever-changing spectacle of action and daring. Operator-controlled wave size allows for scheduling different types of activities at different times, optimizing the use of the waves and serving diverse interests. Literally anyone could enjoy the venue, including those with disabilities, whether it involved getting wet or staying comfortably dry. The RiF010 project is self-contained and uses treated fresh water, just like a swimming pool. Once built, the project will be run as a non-profit organization, managed locally, in order to keep costs low for the residents as well as being able to fund sports programs for local youth and residents. It will draw new stores, bars, and restaurants, and be sure to drive foot-traffic to the area.
The Results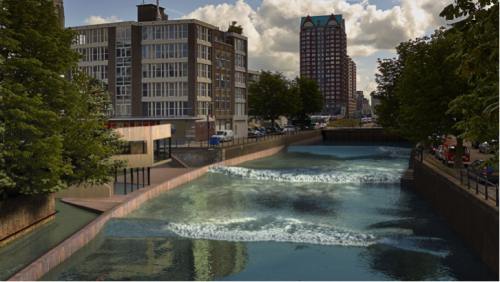 The RiF010 project won with a significant majority, receiving a total of $3.4 million dollars (€3.6 million Euro) of City grant funds allocated for the initiative. The project is already being advertised on Rotterdam tourism sites and is expected to open in 2016. SurfLoch SurfPool™ opens up many opportunities around-the-world to revitalize cities and municipalities by offering sports programming in a unique, pedestrian-friendly venue.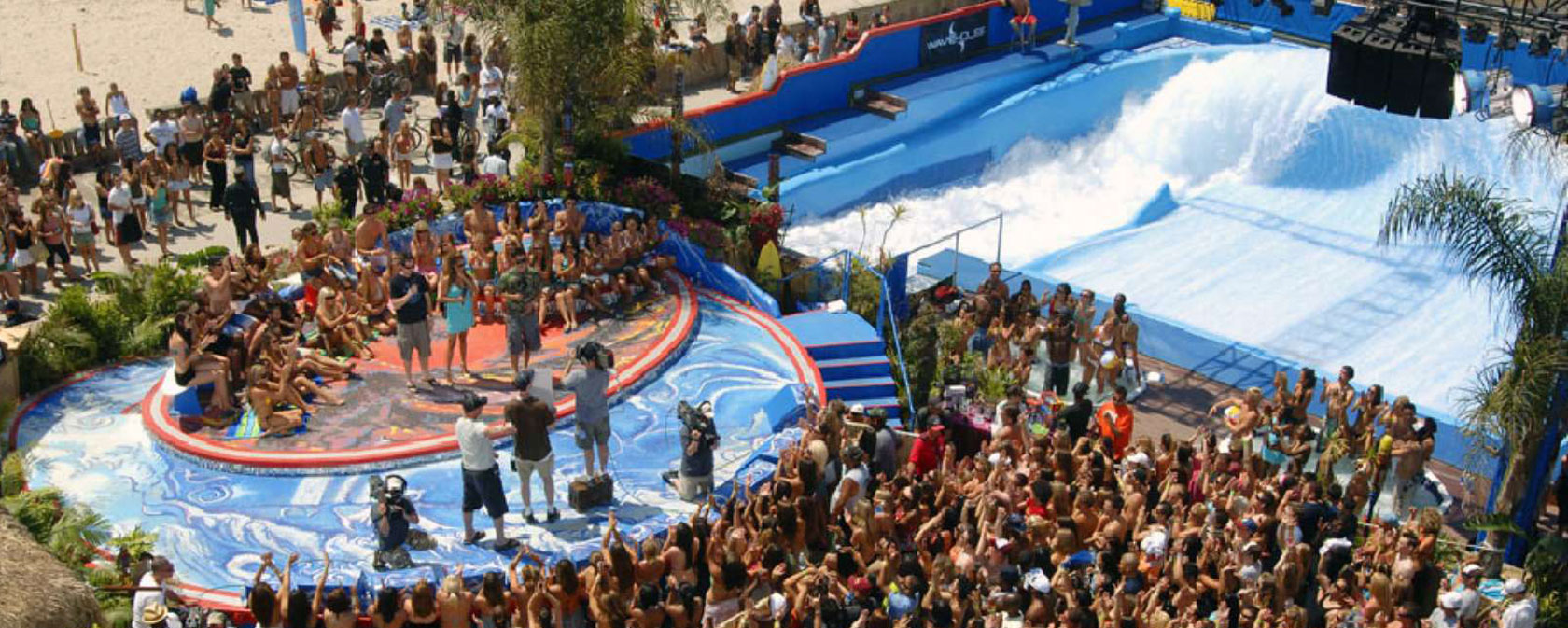 CASE STUDIES – WAVE HOUSE: Magaluff Beach, Mallorca, Spain
Magaluff is located on western side of the Spanish island of Mallorca (or Majorca). Mallorca is the largest of the Balearic Islands, and is a major European holiday resort destination. It has a population of 870,000, 12,000,000 tourists per year, a total area of 1,398 square miles (3,620 km2), and 387 miles of coastline (623 km) dotted with beaches and coves. Mallorca is slightly larger than the state of Rhode Island in the USA. The main airport is 15 miles away and is one of Spain's busiest airports.
Magaluff caters to young singles, couples and families. With a temperate Mediterranean climate, it has a peak season in July/August, and a winter season November to March, yielding seven months of tourist season. Known for its beautiful white sandy beaches and a famous area of bars and clubs, Magaluff was previously suffering from a decline in image. In 2012, internationally renowned Meliá Hotels began modernizing the resort area, updating four hotels on the beach front. Wave House Mallorca, including its 4 Star "Hotel Sol Wave House", was the catalyst for the revitalization.
Overview of the Business
Meliá Hotels International desired to revitalize a recently acquired 300 room beachfront hotel / condo. The objective was to license the California beach lifestyle concept created by Wave House, and create a "Wave House Resort" integrating the hotel's 200 rooms, 100 condos, restaurants, bars, and shopping areas with new leisure, entertainment and beach sport amenities. The Wave House Resort was Phase I of a multi-phase project by Meliá that will ultimately include 8 Meliá hotels located within the region of Calvia on the island. These future hotel renovations are located along the 1st, 2nd, and 3rd line beach improvements.
Wave House Resort was contemplated as the catalyst to jump-start the long-term improvement plan. Meliá presented its Phase I Wave House Resort project to the local Calvia government administration in September 2011. Wave House Resort opened in June 2012 as a unique hotel to experience the California beach lifestyle: leisure, food and beverage, sports, and an event center. "Wave House" would be located on the beach-side pool area of the Sol Wave House Hotel. The Wave House entertainment area featured Wave House CEO Tom Lochtefeld's inventions, the Flow Barrel and Flow Rider sheet wave surfing attractions, where guests and the public could experience the sport of wave riding, as well as enjoy the integrated bars, restaurants, music, and special events. Wave House Mallorca would be a complete beach lifestyle experience offering something for the entire family.
The Challenge
A long series of much-publicized tourist binge drinking, as well as undesirable traffic in the area, led to a decline in the tourist market's perception of Magaluff as a prime tourist destination. Regional revenues declined. In addition, Spain was suffering under an economic downturn. Meliá desired to remodel and reposition the existing 3-star "Royal Beach Hotel", turning it into a 4-star bed and breakfast resort experience that would not only improve the hotel's revenue stream, but also assist in gentrifying the area, and lead the turn-around in the famous resort area's image and profitability and economic impact.
The Solution
The Wave House® brand provided the corner stone upon which the project was built. Wave House Mallorca would be part of a global archipelago of other proven, successful Wave House locations since 2001: San Diego, California in the USA, and internationally South Africa, Chile and Singapore. The Wave House lifestyle offering, with its proven business model, provided broad spectrum multi-cultural appeal that inspired confidence and earned the commitment of the local community, their government and an international ensemble of strategic business partners.
Most importantly, the Wave House brand made a difference in the hotel image and financial result, extending its impact to the surrounding business, town, and the island of Mallorca as a worldwide destination, as outlined below.
The Result
From 2010 to 2012, when Sol Wave House Hotel opened, occupancy increased from 46% to 60%, the Average Daily Rate tripled, and Room Revenues doubled, as compared to the previous metrics of the 3-star Royal Beach hotel. Sol Wave House Hotel also obtained better performance when compared geographically. Occupancy Rates in 2012 were: Spain 53%, Region 55%, Wave House 60%. And in 2013 Wave House occupancy improved to a further 69% with current financial projections leading towards 72%.
In order to put this information in context, and in particular how these results exceeded all expectations in spite of the difficult European economic situation, it is necessary to highlight the difficulty of the Spanish Economy at the time. In 2012 the average Spanish family expenditures were down as follows: Food & beverage (non-alcoholic) -21%; Hotels, Cafés & Restaurants -12%; Leisure, Shows & Culture -24%. Consumer spending was not likely to improve dramatically in the short-term, due to high unemployment, which according to GloBal Insight was around 25% in 2012. Spain 10-year bonds topped the critical 7 percent level in 2012 and the country accepted a rescue from European finance ministers with an aid package of $125 billion. At the time, and even in hindsight, the turn-around was epic. It impacted the surrounding economy as well, with documented increases in commercial rental agreements and rental rates, doubling and even quadrupling in some cases. As well the value of the condo apartments within the hotel itself increased five-fold.
Overall improvements as a result of the Wave House project included:
New inclusion of Magaluff on the "map" of entertainment for youth and families in Mallorca.
Improved and enhanced collaboration (win-win) with neighbors, merchants, suppliers, competitors.
Replaced the "all inclusive" hotel offer with a more limited profitable "Bed & Breakfast", generating greater integration and interaction, as hotel guests spend in the resort.
Repositioned Magaluff from a nightlife-only singles party-central, to a family-friendly sports center, significantly expanding the revenue- and customer-base.
Over 150 new jobs, as well as preservation of existing jobs which had previously been in jeopardy.
Lifestyle "extension" to other businesses as a value-add, attracting other major brands to join the project such as O'Neill, Quicksilver, Roxy, Desigual.
Attracted a higher economic profile market and customer-segment.
Opened new markets: going from the "UK only" formula to include Spain, Germany, Russia.
Improved local economic impact (hotel and complementary spending, taxes).
Expanded customer diversification (up to 43 nationalities in one month).
Converted a situation of historic investor-mistrust in area businesses, to optimism and confidence for future investment.
Extended the tourist season to include fall and spring months.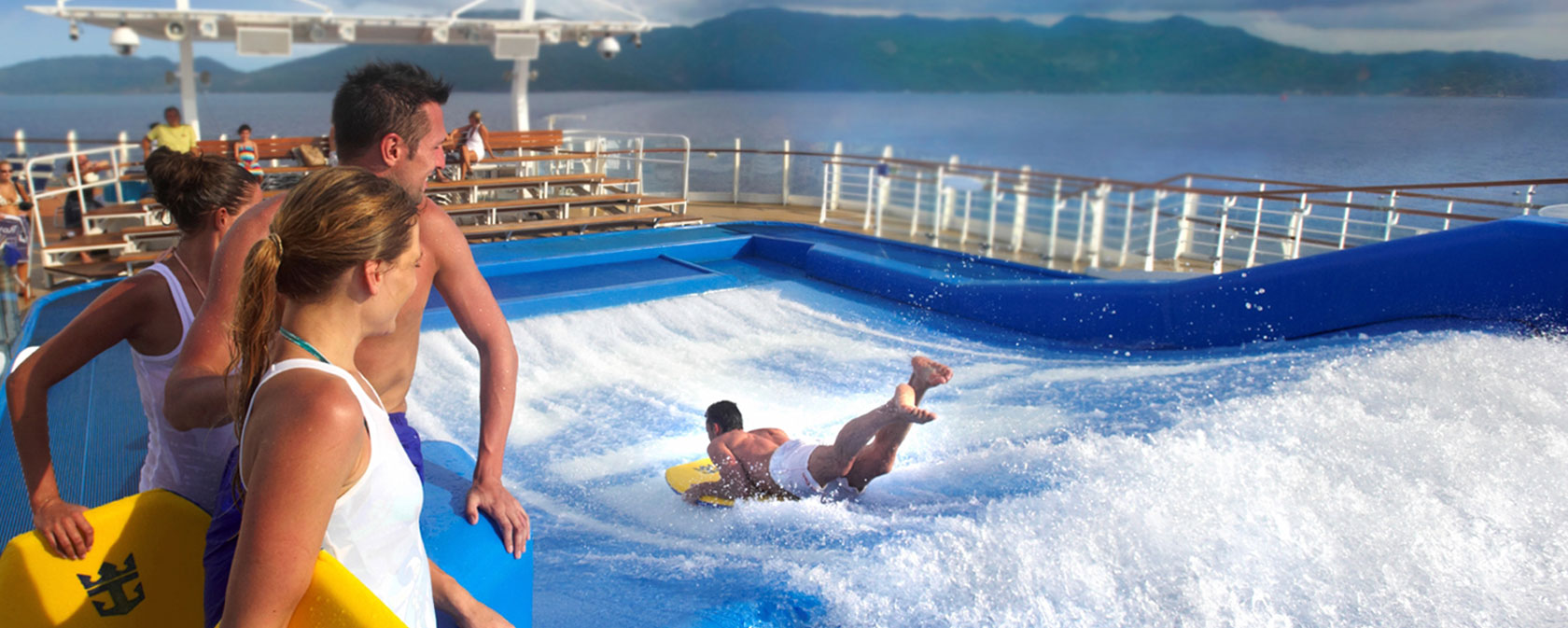 CASE STUDIES – CRUISE SHIP: Royal Caribbean International
In 1997, Royal Caribbean Cruise Lines changed its name to Royal Caribbean International, a rebranding intended to show that the cruise line started in 1968 with one ship  – Song of Norway – was now cruising in all the seven seas.  Royal Caribbean International operates cruises out of three dozen ports from Denmark to Dubai to San Diego. There are 20 ships in the Royal Caribbean International fleet (with two under construction) in five classes: Freedom, Voyager, Radiance, Vision and Sovereign.
Overview of the Businesss
Royal Caribbean International is known for innovation. In 1978 they "stretched" the Song of Norway – cutting it in half and welding in an 85-foot mid-section to increase guest capacity from 700 to 1000. In 1998, Royal Caribbean International did away with rudders, stern thrusters and propeller shafts when they installed the Azipod propulsion system – which places the propeller on a steerable pod, which can be rotated 180 degrees.
Royal Caribbean International's growth from one to 20 ships in 40 years has been phenomenal, and the success of the line is based on their attention to detail, and to providing a quality experience for their guests, and striving to present cruise ship passengers with new thrills and luxuries.
The Challenge
Royal Caribbean International has always prided itself on having the world's most innovative cruise ships either under way or under construction.  The cruise line redefined cruise vacations in 1999 by offering unexpected onboard amenities such as a rock-climbing wall and ice-skating rink on its Voyager-Class ships.
In 2004, the first of the Freedom-class ships were under construction at the Aker shipyards in Turku, Finland. When the ships launched they would be the largest cruise ships in the world: 3,634 guests, double occupancy, on a ship 1,112 feet long and 184 feet wide, all of its 160,000 gross registered tons cruising at 21.6 knots powered by 57,000 horsepower.
Freedom of the Seas would be the world's largest and most spectacular cruise ship and the challenge for Royal Caribbean International was to offer more unexpected onboard amenities that would redefine cruise vacationing once again.
The Solution
In August of 2005, Royal Caribbean International announced the first "onboard surf park" on a cruise ship, featuring a 28' by 40'  FlowRider® which would flow 32,000 gallons of water in the stern of the ship, allowing guests to ride the wild surf while sailing on the high seas. At the shipyards in Turku, Finland, cranes swung FlowRiders onto the sterns of three of the Freedom-class ships. Freedom of the Seasput to sea in April, 2006, followed by the Liberty of the Seas in May, 2007 and Independence of the Seas in April, 2008.
As the ships cruised along at 20 knots, the FlowRider flowed at 25 MPH (40 KPH) in the stern of the ship. Guests loved it. Some got married on the FlowRider. Others rode the wild surf while sailing over the bounding main, laying down snaking tracks while watching the tracks of the cruise ship fan out for miles.
Royal Caribbean International featured the FlowRider in broadcast and print advertising, under the slogan: "Long board. Short board. Boogie board. Onboard." And it worked. Family interest in the Freedom-class cruises jumped considerably because, as a company spokesman put it: "Get the teenagers, and you get the families."
In August of 2008, Royal Caribbean showed new plans for its Oasis class of cruise ships. The largest cruise ships ever launched will be laid out in seven distinct themed areas: Central Park, Boardwalk, the Royal Promenade, the Pool and Sports Zone and Vitality at Sea Spa and Fitness Center.
In August of 2008, Adam Goldstein, the president and CEO of Royal Caribbean International announced: "We have developed the Pool and Sports Zone and the Vitality at Sea Spa and Fitness Center to give our guests even more choices on a unique and memorable Royal Caribbean cruise."
Those choices include two FlowRider Doubles which will flank both sides of the elevated back deck. Four times the flow, four times the joy.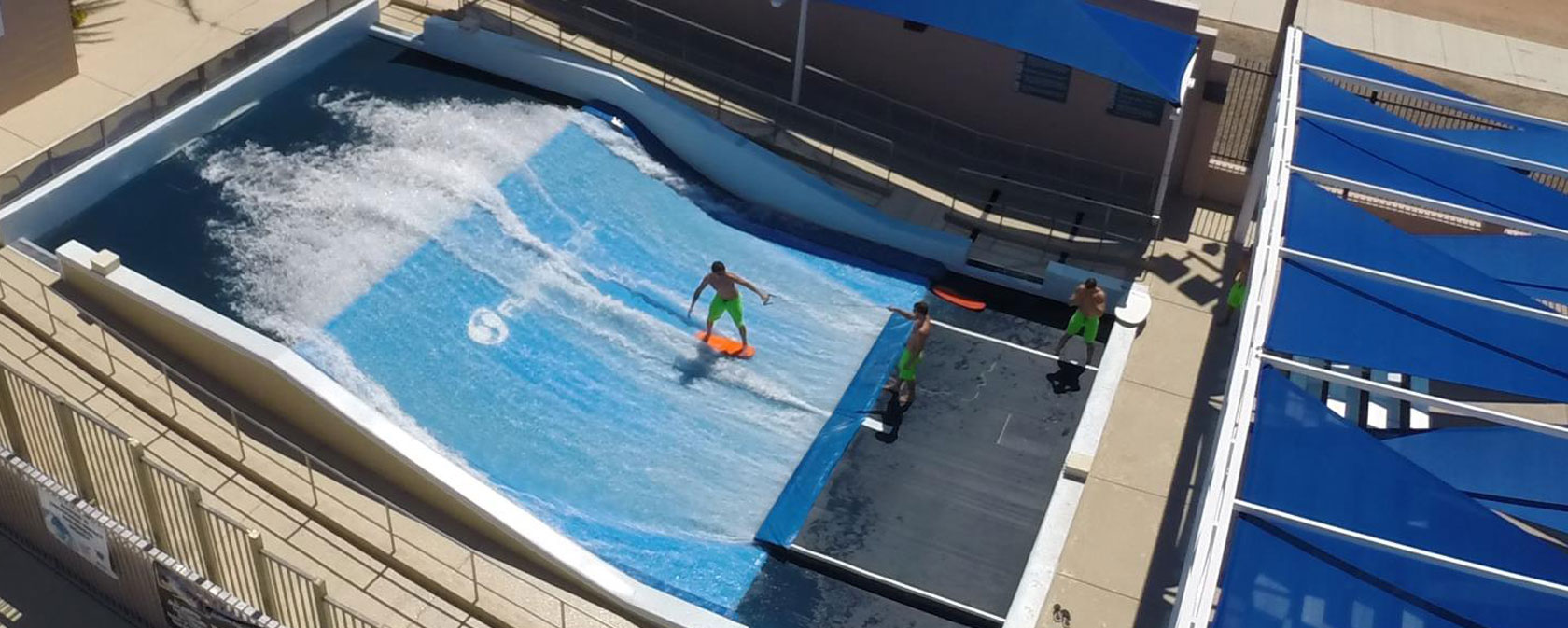 CASE STUDIES – MUNICIPAL: City of Republic, Missouri
The City of Republic is a small town in Missouri with a population of 14,000. Located in the southwest of Greene County, Republic is less than 10 miles from Springfield, which has a regional population of over 150,000.
Overview of the Businesss
The Republic Parks and Recreation department has operated a Municipal Pool since the sixties. Southern Missouri is hot as blazes in the summer, and in 2003, the 25 meter pool with 10 lanes was open for 85 days. The facility charged $2 – $2.50 for admission. For 2003, the facility attracted 8,100 swimmers, generating $22,600 in revenue while operating at a loss of $139,400.
The Challenge
The goal of Republic Aquatic Center was to provide services to the community without being a drain on public funds.
According to Jared Keeling, Parks and Recreation Director for the City of Republic, the original plan was to build a new municipal pool, but there was the fear that a bigger pool would just be a bigger drain on public funds.  A municipal waterpark was a more ambitious idea, and supporters argued that instead of draining public funds, guests and business would flow in from a 25-mile radius around Republic.
In August of 2003, the City of Republic presented the issue to voters, asking:
"Shall the City of Republic Missouri impose a sales tax of 1⁄4 of 1% for the purpose of funding local park improvements? Including but not limited to the construction, operation, and maintenance of an Aquatic Facility. Such tax to terminate in 20 years."
The ballot issue passed and the city imposed a ¼ cent sales tax which raised $400,000 a year.  This $400,000 would be used as income to pay for the loan of $4,000,000 the City took out to build the waterpark.  Any extra money from the sales tax would pay for other park improvements: "We kind of stuck our necks out," said Jared Keeling. "But the tax passed by a margin of 74% to 26%. But we needed to do something. The old pool was just a big concrete pond with no slides or diving boards, and there had been a steady decline in attendance. No one was going because there was nothing to do there."
The Solution
The City of Republic invested $4 million to build a 400,000 gallon municipal waterpark which included a Zero Depth Play Structure, a Therapy Area, a Children's Play Area, two waterslides and a 25-yard lap pool with six lanes. The park's piece de resistance was a FlowRider® Single: "The Parks and Recreation director before me flew down to Florida a couple of times to check out the FlowRiders there," Keeling said. "They thought it could be something unique and have a lot of draw not just in Republic but over the whole region. We went ahead and included a FlowRider in the master plan but when we went to bid it came in over. We stuck our necks out again and borrowed more money but it turned out to be one of the best decisions we ever made."
The FlowRider is the waterpark industry's only sporting attraction.  Although available to a broad demographic that ranges from 7 years to 70+, the attraction is a challenge to ride.  It takes balance and focused attention to master controlled skimming over a high velocity sheet flow of water.  As one progresses, there are different levels of mastery, from lay-down bodyboard, to knee-riding,  drop-knee,  stand-up,  carves,  spins,  shove-its, and kick-flips, the learning never stops.  The more you ride, the more you want to ride.