COUNTDOWN BEGINS
The countdown to construction of the first commercial SurfPool™ has begun.
Rif010 sources tell us that various hurdles have been cleared, and construction of our part of the project is expected to start in August – that's only 7 months away!
General construction starts in two months in March where an existing canal (in this city of canals) will be given a major "remodel" into a SurfLoch SurfPool™.
Watch a great simulation of the construction process in this recent major Dutch newspaper article HERE , showing what will happen inside the existing canal. It's a fascinating engineering feat.
PLAN AHEAD
Now that you're thinking of booking your ticket to Rotterdam (Holland, The Netherlands), and wondering which friends to split hotel costs with, here's a few value-added things to consider.
In between your sessions at Rif010, boardriding enthusiasts can also visit this public skatepark, West Blaak, in the middle of the city.  The citizens of Rotterdam, a city of close to 1 million people, have it nailed when it comes to putting sporting activities right in the middle of downtown. SurfPool won't be the first, or even the second, for this progressive city.
ONE OF THE WORLD'S BEST CITIES
Oh and by the way, the City of Rotterdam is #5 on The Lonely Planet's Top Ten List of best cities for travel in 2016.  Um, yeah, that would be #5 in the ENTIRE WORLD.  Rotterdam must be pretty cool, right?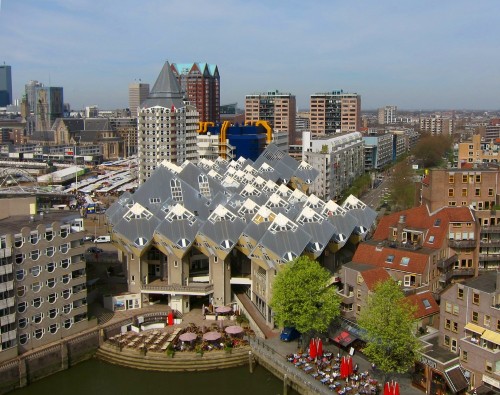 Not least of the reasons for this is that Rotterdam is an incredible mix of historic architecture adjacent to truly futuristic marvels, all over the city. And somehow, it works. It's uniquely Rotterdam.
This famous collection of "cube-houses" for example, actually creates a little village underneath and in-between.  There's one available for rent on an airbnb site with a ton of photos. No guarantee how long this link will last – check it out.
And the people of Rotterdam are REALLY nice. It's a great place to visit.
Plan your trip now!